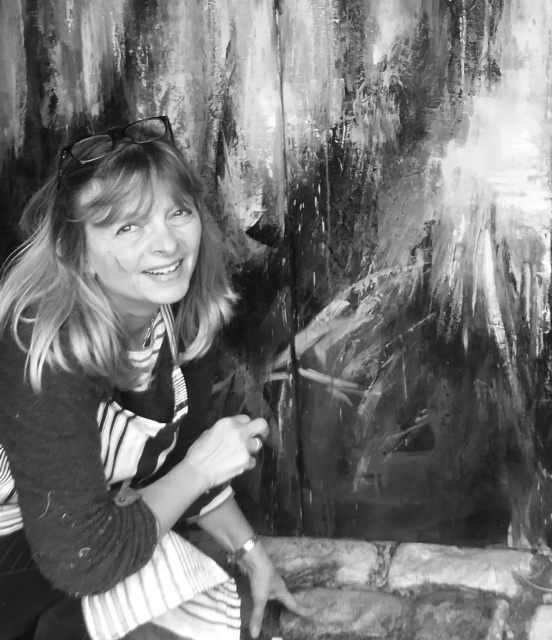 ARTIST STATEMENT
Wild places bring wonderment and affect my thinking. My art is process led, intuitive and nuanced, evoking thoughts on continua or extremes, transience and the universal struggle in nature to achieve balance.
I create paintings using raw pigments with watercolour, egg tempera, oil and wax.
Essay
Anchored in landscape and the sensory beauty of natural forms, Sally Wyatt's paintings speak of a curious and compelling contrast between subject and paint. Giving free rein to the expressive qualities of mark and medium, her works explore the restless shape and vitality of land and sea through a confident language of texture, tone and colour. The restrained beauty and delicacy of draftsmanship apparent in her graphite and watercolour sketches on paper give way, on board and canvas, to the fluid, more forceful qualities of paint. Here, where the physical process of painting dominates, light and landscape dissolve together in the creation of strange and softly atmospheric images. Throughout her paintings, high energy brushwork and fleeting, minimal bursts of colour are balanced by simplicity of composition and the cool tones of an overtly blue palette, a colour which situates each of her works, however abstract, in the literality of exterior space and light.
Texture and colour play the major part in these paintings, carrying with them figurative hints that need no further description through shape or line: pale, ethereal sweeps of meteorological colour and brooding ocean tones of sullen, nuanced grey and ominous, deep, dark blue merge seamlessly with a geological palette of pink, purple and gold. Always, however, the commanding grip of Wyatt's rich, impasto surface remains, occasionally enhanced by touches of transparent, textural fabric. Demonstrating an extraordinary painterly skill at the earliest stage of her career, Wyatt is an artist who gives full voice to both her medium and her blossoming talent for abstracting the landscape.
-Mercedes Smith 2016
GALLERY REPRESENTATION
Hadfield Fine Art – www.hadfieldfineart.co.uk
The Burford Gallery – http://www.burford.co.uk/original-contemporary-art/
The Roundhouse and Capstan Gallery, Sennen Cove – http://www.round-house.co.uk/
Virtual Galleries, Kingfisher Art, Wychwood Art – https://www.wychwoodart.com/
BIOGRAPHY
2020 Viewpoint at The Gardens Gallery, Cheltenham.
2020 Hadfield Online Exhibition
2020 Hadfield Fine Art Winter Exhibition
2019 Autumn Exhibition at Hadfield Fine Art, Severnhampton.
2019 CURATING OPEN ART COMPETITION at Burford Festival.
2019 SOLO EXHIBITION 'Palimpsest' in Warwick Hall Burford, Oxon.
2019 OXFORDSHIRE ARTWEEKS Open Studio.
2019 Shortlisted-not hung in Royal Academy Summer Exhibition 2019
2019 FRESH Art Fair. Exhibiting with Hadfield Fine Art.
2019 Talk with the Artist – Processing Landscape – Eynsham Art Group, The Music Room.
2019 Hadfield Fine Art Winter Exhibition Severnhampton.
2018 Hadfield Fine Art Autumn Exhibition in Severnhampton.
2018 ING Discerning Eye Exhibitions at The Mall Galleries, London.
2018 Kingfisher Art – Pop up Exhibition in Woodstock.
2018 Cambridge Art Fair – Exhibiting with Hadfield Fine Art.
2018 Hadfield Fine Art Cotswold Decorative Antique and Art Fair, Westonbirt
2018 Hadfield Fine Art Open weekend, Severnhampton
2018 The Broadway Arts Festival Open Art Competition at The Little Buckland Gallery, Worcestershire
2018 POINTS OF VIEW at The Gardens Gallery, Cheltenham
2018 Oxfordshire Art Weeks Open Studio Event, Burford
2018 FRESH ART FAIR with Hadfield Fine Art, Cheltenham
2018 The Cotswolds Decorative Antiques & Art Fair, Gloucester
2018 BEYOND OBSERVATION: Exposing Nature and Self with West Ox Arts, Bampton
2018 WINTER EXHIBITION at Hadfield Fine Art, Severnhampton
2018 Gallery Exhibition "CYPHER" at Tremenheere Sculpture Gardens, Nr. Penzance, Cornwall
2018 Symposium Talk "From Geology and Textiles to Expressive Painting", Tremenheere Sculpture Garden Gallery
2017 RWA 165 Annual Open Exhibition, Bristol, RWA Bristol
2017 10th Anniversary Exhibition, Sevenhampton. Hadfield Fine Art
2017 South West Academy Open Exhibition 2017, Exeter Castle – Award for Coastwalk
2017 Edinburgh Art Fair. Exhibiting with Kingfisher Art
2017 Observation of Blue, West Ox Arts Society members exhibition
2017 Oxford Art Society Open, Cloister Gallery, St John the Evangelist Church, Iffley Rd, Oxford.
2017 Open Weekend, Sevenhampton. Hadfield Fine Art
2017 Cotswolds Art & Antiques Fair, Westonbirt.
2017 Open weekend. Hadfield Fine Art
2017 Oxfordshire Art Weeks Open Studio Event
2017 Cogges Exhibition – Artweeks event: "Meet the Artist"
2017 Hadfield Fine Art at FRESH Art Fair, Cheltenham Racecourse
2017 Hadfield Fine Art at BATTERSEA SPRING AFFORDABLE ART FAIR
2017 Hadfield Fine Art, Cheltenham
2017 Burford Art Gallery
2017 The Mall Galleries, London
2017 'Trace'. Cogges Manor. Solo Exhibition
2016 – 2017 COGGES MANOR FARM ARTIST IN RESIDENCE
2017 Oxfordshire Artweeks Open Studio
2016 The Brian Sinfield Gallery
2016 Royal Society Marine Artists. Exhibited
2016 Royal Institute Oil Painters. Pre selected
2016 The Gardens Gallery, Cheltenham. Janet James and Sally Wyatt Exhibition
2016 Oxfordshire Artweeks Open Studio
2015 'Collider.' Mentoring Group Exhibition. Newlyn School of Art
2015 Burford Art Gallery
2015 Wychwood Art Gallery
2015 Oxfordshire Artweeks Open Studio
2015 WOA Gallery Landscapes Reviewed Exhibition
2015 Oxford Art Prize. Runner up
2014 Oxfordshire Artweeks Open Studio
2005 BIDA Best Design Award. Decorex International.
1990s -present Designer Maker
1980s. Liberty of London
1981 BSc.(Hons) University of Nottingham